Last Updated: August 3, 2023
It's officially Hurricane season! Hurricane Season in the Atlantic Basin runs from June 1 to November 30 each year. Check out these great tips from the NOAA National Weather Service to help you determine your personal risk, find out if you live in a hurricane evacuation zone, review/update insurance policies, prepare your home and/or business, gather emergency supplies and create a plan. 
Hurricane Impact   
At Cordo Claims Group, we specialize in hurricane damage claims throughout Florida, Georgia, Louisiana, Mississippi, North Carolina, South Carolina, Texas, Virginia, and West Virginia. Hurricanes are not just a coastal problem. Impacts from wind and water can be felt hundreds of miles inland, and significant impacts can occur regardless of the storm's strength.
Hurricane Season Forecast: 2023   
According to the Federal Emergency Management Agency (FEMA), hurricanes have caused eight of the ten costliest disasters ever in the U.S. According to the NOAA, a normal Atlantic hurricane season produces 14 named storms, of which 7 become hurricanes, including 3 major hurricanes. This year, the Colorado State University forecast anticipates above-average activity this season, including 18 named storms. Of those storms, nine are forecast to become hurricanes, and four are predicted to strengthen into major hurricanes. Hurricanes are among nature's most powerful and destructive phenomena.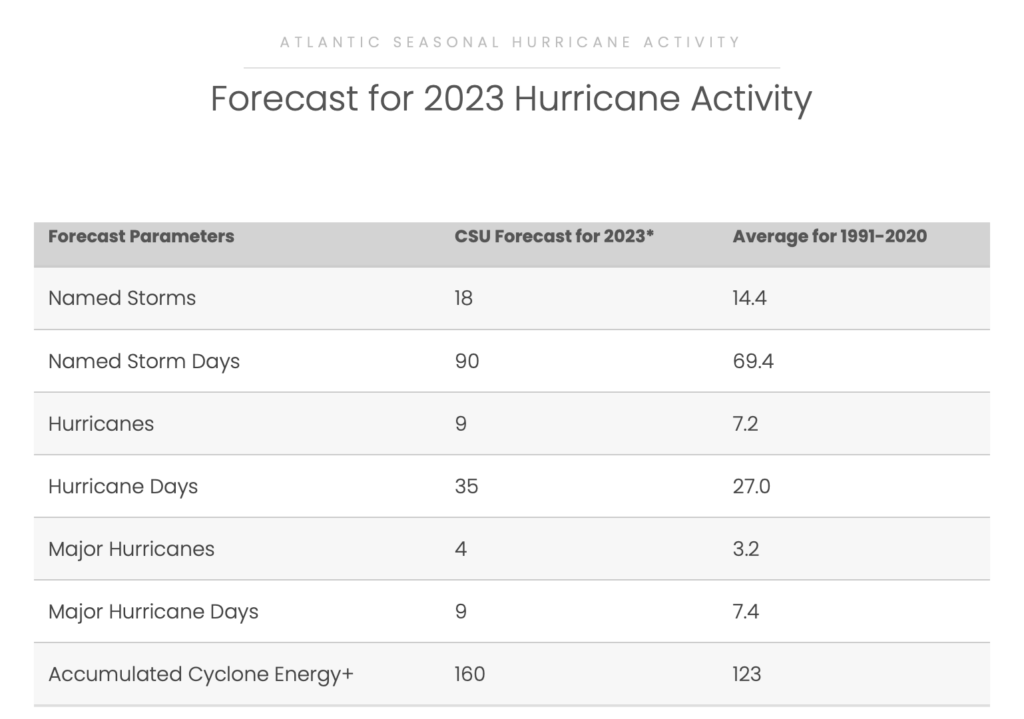 Hurricane Preparedness Tips
1. Know Your Risk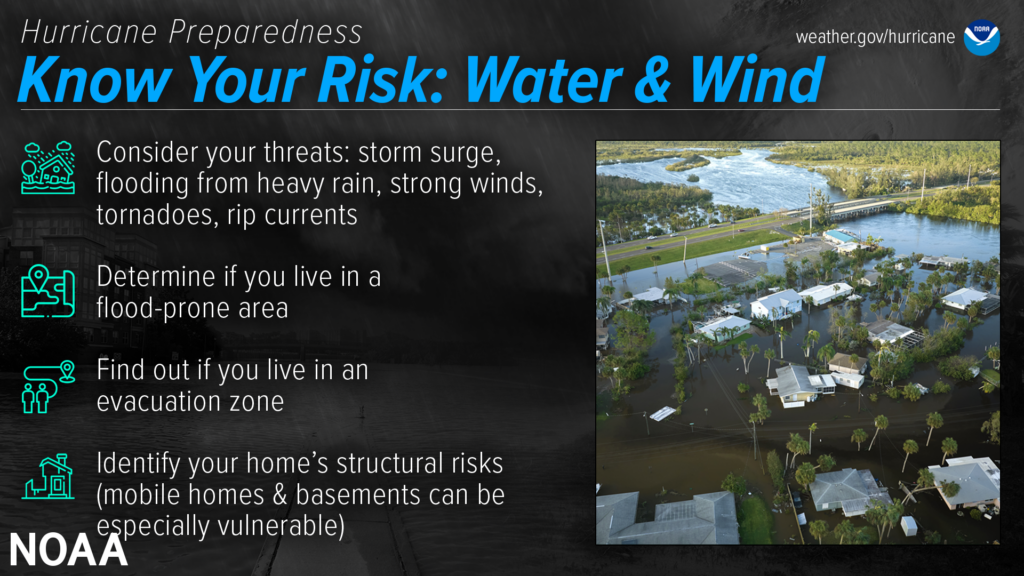 The first step in preparing for a hurricane is to know your risk. The primary hazards from tropical storms and hurricanes include storm surge, flooding, destructive winds, tornadoes, and high surf and rip currents. Find out what types of water and wind hazards may occur in your area.
Know Your Risks 
Flooding: Know your flood zone. If you're not in a designated flood zone, find out if your area is prone to flooding. 
Storm Surge: This has historically caused the most deaths during a hurricane. Storm surge causes severe flooding and can travel several miles inland, especially along bays, rivers, and estuaries. 
Hurricane-Force Winds: Wind speeds can range greatly from moderate to catastrophic, leading to severe damage, power outages, uprooted trees and deadly flying debris. Anything left outside can become flying missiles during hurricanes. Bring in any outdoor furniture and other items before a hurricane. Be sure to maintain your property and roofing system all year round by getting routine inspections and maintenance done. 
Tornadoes: Severe tornadoes can also be produced by hurricanes and tropical storms. It's important to know the warning signs and follow your local weather officials.
Find Your Flood Zone 
Find Your Evacuation Zone 
Routine Property Maintenance & Upgrades 
Be sure to get routine maintenance done on your property and roofing system. Are your windows impact rated? Are your storm shutters ready? Are your exterior doors and garage door hurricane proof?  The garage door is the most vulnerable part of the home, so it must be able to withstand hurricane-force winds.    
2. Prepare for Hurricane Season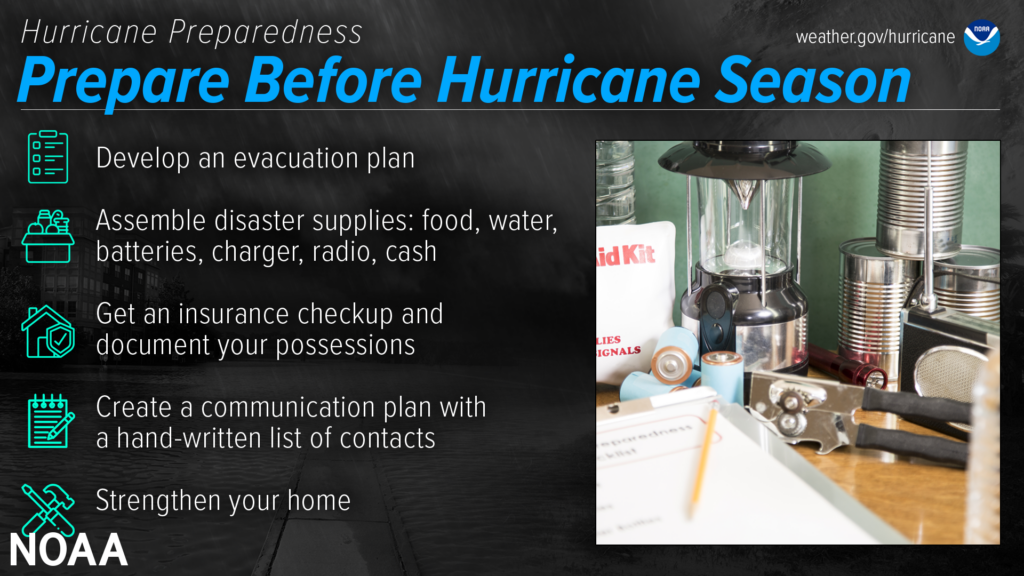 Develop a Plan
Don't wait until it's too late to create your plan. It can make the difference between life and death. Start gathering your supplies now. Make sure you have an evacuation and communication plan in place. Develop a detailed plan including evacuation routes, emergency contacts and backup storage of essential data. Make sure all family and/or staff members understand the plan and know what to do in case of an emergency. Of course, don't forget about your furry friends, your pets!  
Create An Emergency Kit & Supplies
Whether you're evacuating or sheltering-in-place, it's important to build an emergency kit and have it on hand well in advance of a storm event. Have enough non-perishable food, water, and medicine to last at least 3 days. Also be sure to have flashlights, batteries, extra cash, a battery or solar powered radio, portable crank or solar-powered USB charger for your cell phones. Be sure you have your important documents set aside to take with you if evacuating, and also saved in a backup location or on the cloud. 
3. Review Your Insurance Policy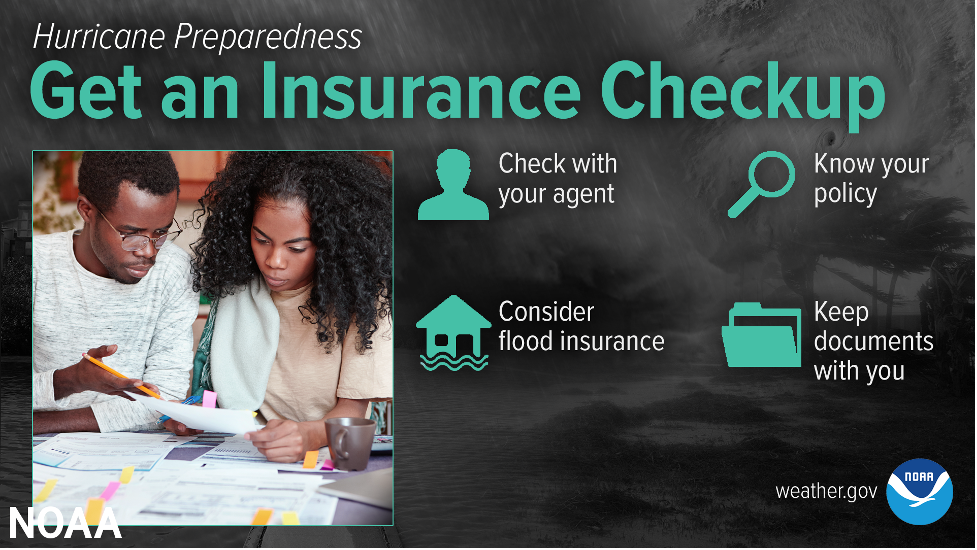 It's important to review your insurance policy annually and understand what is included and ensure you have enough coverage, well before you need to use it. Contact your agent for a review. Remember, home and renters insurance doesn't cover flooding, so you'll need a separate policy for it. Flood insurance is available through your company, agent, or the National Flood Insurance Program at floodsmart.gov. Flood insurance requires a 30-day waiting period. It's also important to maintain an updated inventory list of your household possessions. Include  receipts, photos, serial numbers, and anything else that you may need to provide your insurance company in the event you need to file a claim. At Cordo Claims Group, we have over 20 years of experience managing insurance claims. We understand the legalese and carefully read through the fine print that you may have missed. Contact us for a free policy review!
4. Understand Forecast Information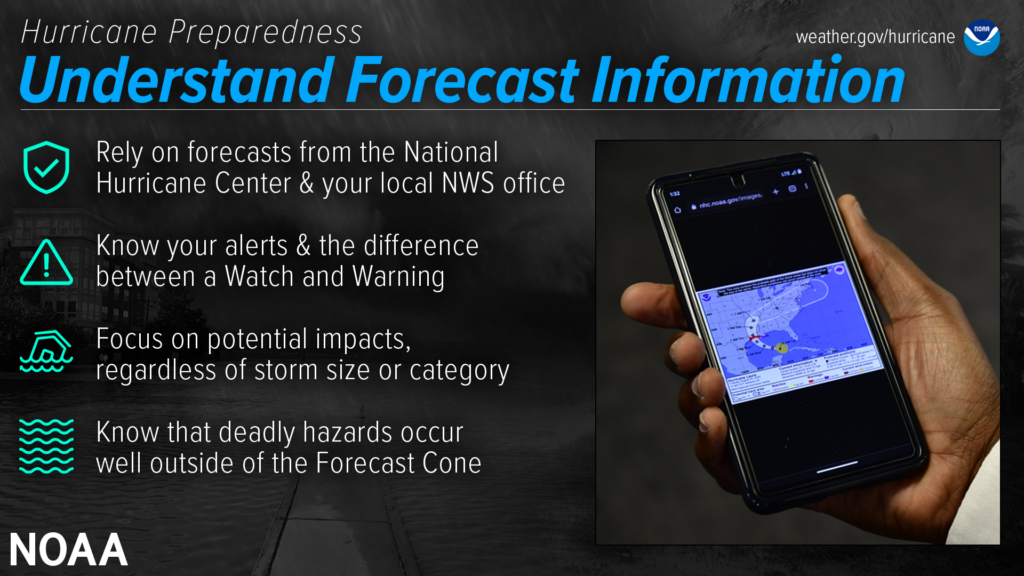 Stay up-to-date with the latest information and forecasts from reliable sources such as the National Weather Service (NWS), National Hurricane Center (NHC), and local emergency management agencies. Be cautious of sensational headlines and instead follow these reliable sources to determine the storm's potential impacts. Credible sources can guide you through what is expected, the storm path, predicted rainfall amounts, wind speeds, and more. Make sure to sign up for local alerts on your phone. If you're a business owner, ensure that your employees have all the tools and resources they need as well.
Forecast Cone & Storm Impacts
The Forecast Cone shows the probable forecast track of the center of the storm. This means that the storm's center will probably travel somewhere within the cone's boundaries. According to the NHC, the storm's center has remained within the forecasted cone roughly two-thirds of the time. The cone does NOT represent the size of the storm in any way. Remember, impacts can be felt far from the storm's center, even well inland and outside the Forecast Cone.
Monitor All Storm Impacts & Know the Difference Between Watches & Warnings
It's important to monitor all activity. All hurricanes and tropical storms can bring life-threatening storm surge, inland flooding, and damaging winds. Know the difference between watches and warnings and what to do in each scenario. A few seconds of preparedness can save your life. 
Watch = Possible

Warning = Expected or Happening
Hurricane Watch vs. Warning

Hurricane Watch

=  Issued when hurricane-force winds are

possible

. Prepare by boarding up windows and moving loose items indoors, and make sure your emergency kit is ready.

Hurricane Warning = Issued when hurricane-force winds are expected. Seek shelter in a sturdy structure or evacuate if ordered.
Tropical Storm Watch vs. Warning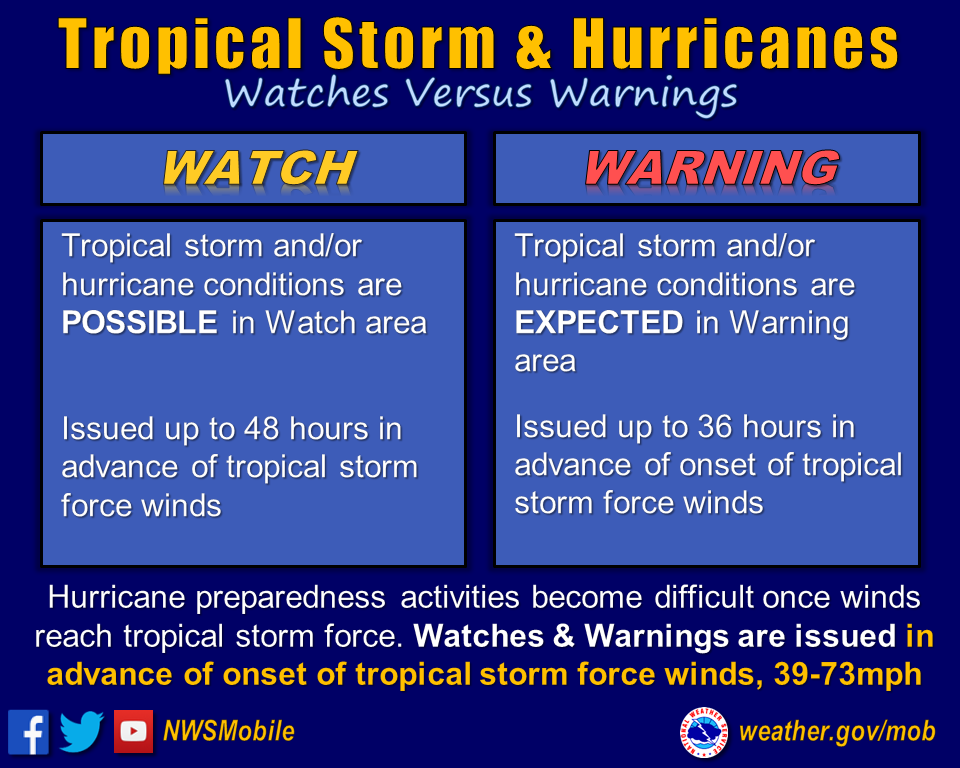 Tropical Storm Watch

 = Tropical storm conditions are 

possible

 within the next 48 hours.

Tropical Storm Warning

 = Tropical storm conditions are 

expected 

somewhere within the warning area. 
Storm Surge Watch vs. Warning
In both occurrences, promptly follow evacuation and other instructions from local officials.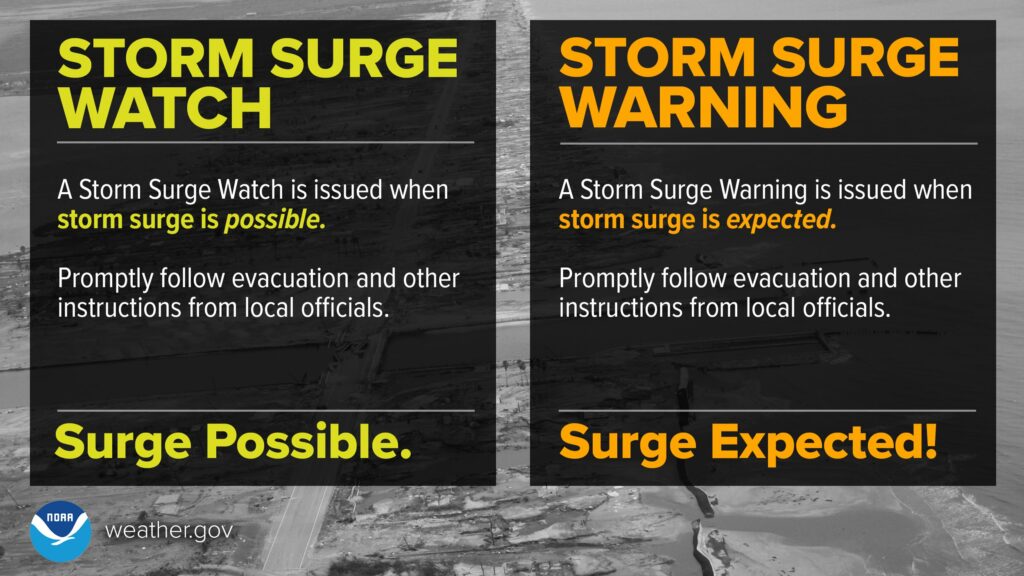 Storm Surge Watch

 = Issued when the

possibility

of life-threatening inundation generally may occur within 48 hours.

Storm Surge Warning = Issued when storm surge is expected and the danger of life-threatening inundation is generally within 36 hours. 
Extreme Wind Warning
Take immediate shelter in an interior portion of a well-built structure when this is issued.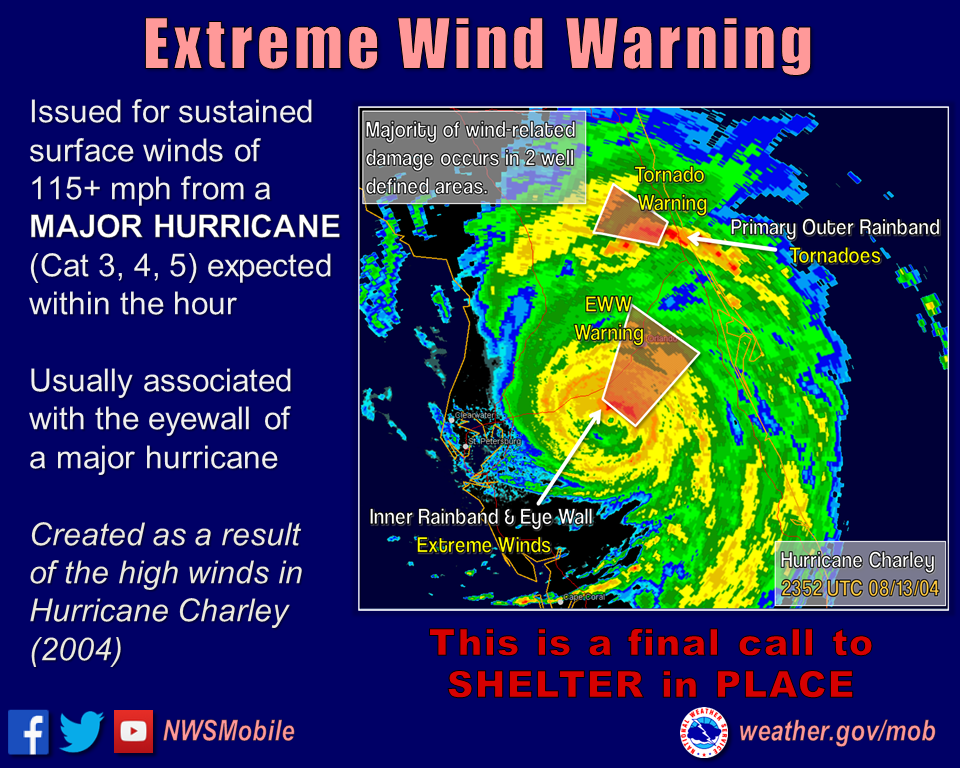 Extreme Wind Warning

  = Issued when extreme hurricane winds (115 mph+) are imminent or happening.
Flash Flood Emergency vs. Warning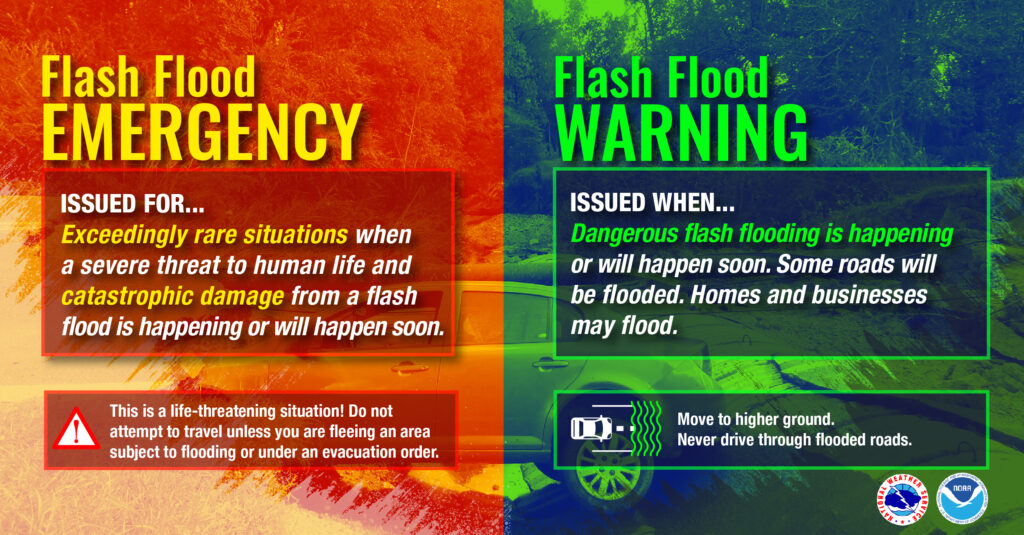 Flash Flood Emergency

 = Issued for exceedingly rare situations when a severe threat to human life and catastrophic

damage is happening or about to happen

. Do NOT attempt to travel unless you are under an evacuation order or your life is imminently at risk.

Flash Flood Warning

= Dangerous flash flooding is expected. Move to higher ground, and never walk or drive through floodwater. Turn around, don't drown! 
Flood Watch vs. Warning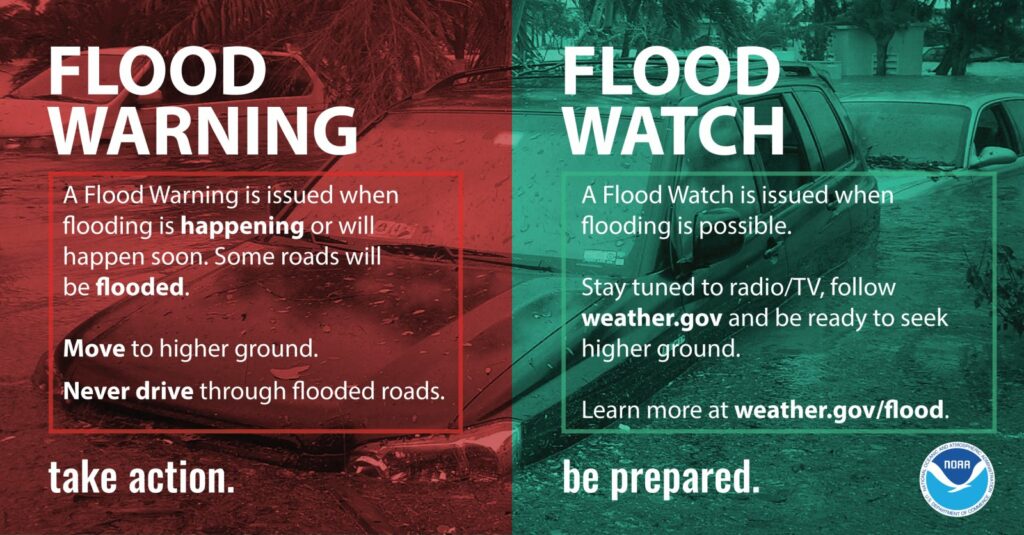 Flood Watch

 = Flooding is

possible.

Stay tuned to credible weather and news sources and be ready to seek higher ground.

Flood Warning = Flooding is happening or about to happen. Move to higher ground immediately.
Tornado Watch vs. Warning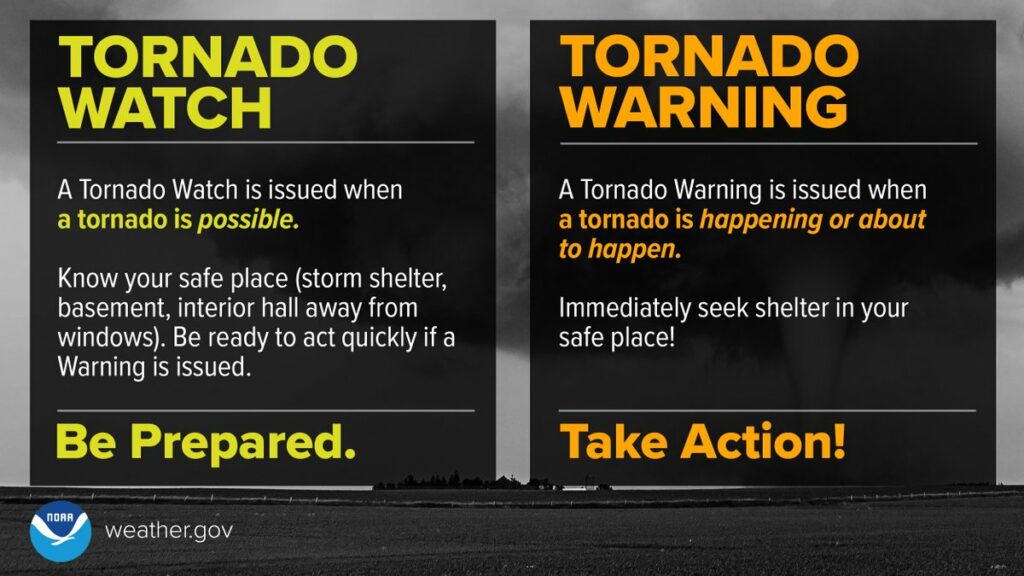 Tornado Watch

 = A tornado is

possible.

Know your safe place and be ready to act quickly if a Warning is issued. 

Tornado Warning

 = A tornado is

happening or about to happen.

Immediately seek shelter in your safe place!
5. Get Moving When a Storm Threatens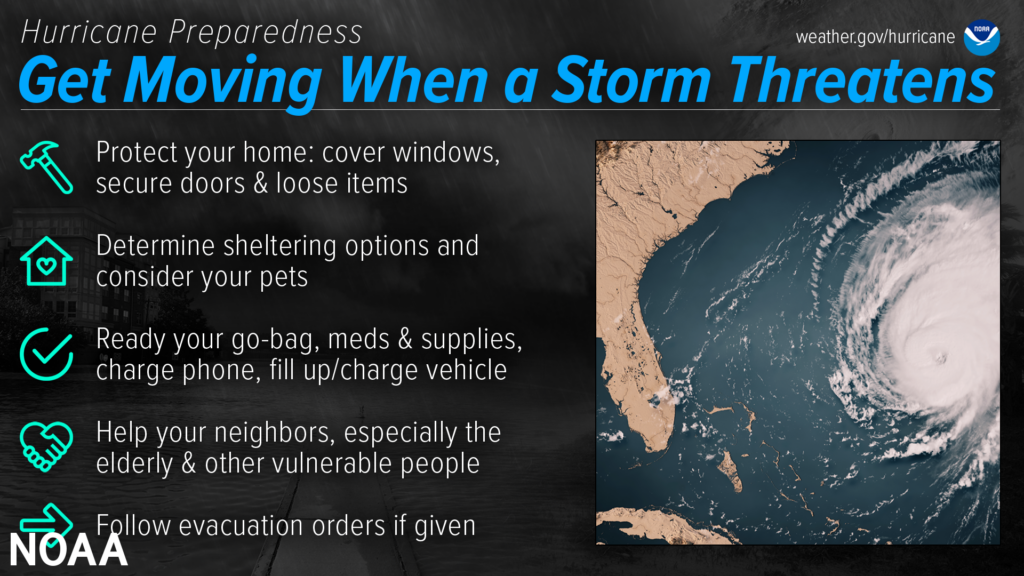 It's important to be ready to take action and know your plan. 
Property Preparedness 
Board up windows, bring in outdoor items, and secure all of your doors. Move your vehicle to a safe location if you're not evacuating. If you are evacuating, unplug electrical equipment including televisions, appliances, radios, etc. Even your refrigerators and freezers need to be unplugged if there is a flood risk. Follow local officials and turn off gas, water and electricity if instructed to do so. 
Follow Your Plan
Get your supply kit ready, fill up or charge your vehicle, charge your phones, and communicate your plans with your family and friends. Have your evacuation plan ready, shelter options and plans for your pets. Be sure to help your neighbors. Always follow evacuation orders if given. 
6. Stay Protected During Storms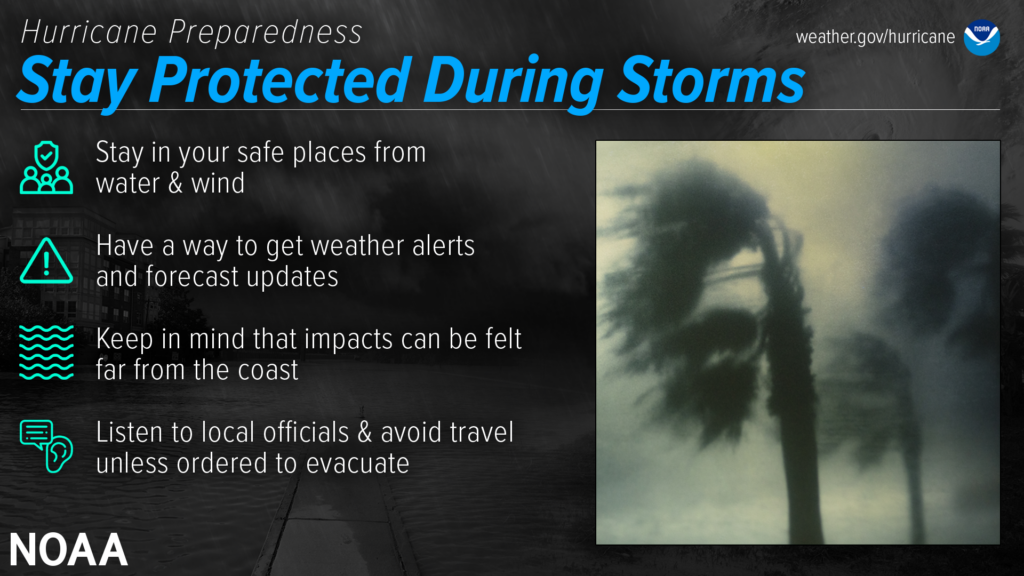 Whether you're sheltering in place or elsewhere when the storm hits, it's important to remain vigilant and continually monitor the latest forecasts and alerts. Conditions can change quickly and storms can rapidly intensify from a tropical storm to a major hurricane. Even small changes in the storm's track can make a big difference. Evacuation orders may still be given at this late stage — leave immediately if ordered! Follow recommended evacuation routes — do not take shortcuts, as they may be blocked. Be alert for road hazards such as washed-out roads or bridges and downed power lines. Never drive through floodwaters.
What to Do: Flooding 
Inland flooding can be felt hundreds of miles from the coast. Never drive through floodwaters! A car can be swept away with only a foot of water, and there's no way to know if the road itself has collapsed when hidden by water. If your house becomes flooded and you're still there, get higher in your house to escape the flood waters. If the highest floor of your home becomes dangerous, get on the roof and call 911.
What to Do: Severe Winds 
Winds can be stronger higher above ground level, which can put high-rise buildings at a greater risk. To protect yourself from wind, the best thing you can do is put as many walls as possible between you and the outside. An interior room without windows is the safest place you can be in a building. You can cover yourself with a mattress and wear a helmet for added protection. If your area is under an Extreme Wind Warning, take shelter immediately. Make sure to stay sheltered until the threat is gone. Though rain and storm surge cause more direct deaths, wind can also be very destructive and deadly in hurricanes. 
7. Use Caution After Storms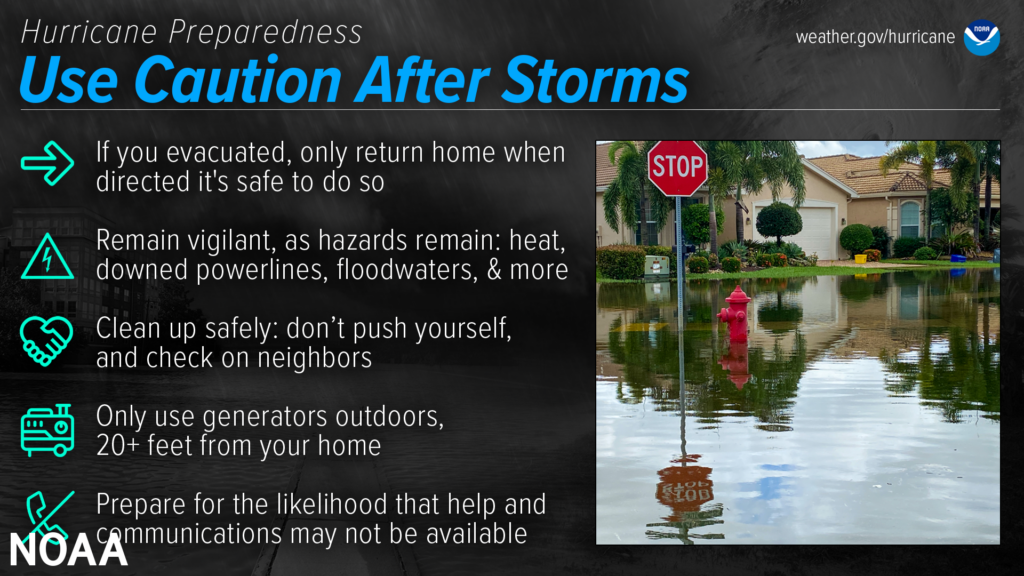 Nearly half of all hurricane fatalities occur after the storm. This is not the time to put your guard down. 
If you evacuated, only return home when told to do so. ​​Check with local officials both where you're staying and back home before you travel.

Be careful near damaged buildings. Walk carefully around the outside of your home to check for loose power lines, gas leaks, and structural damage, including dangerous debris such as nails or glass. 

Leave your home if there's shifting or unusual noises. 

If you smell gas, get outdoors immediately and call 911.

Stay away from downed power lines to avoid electric shock. Stay alert: they may be on the ground, hidden in water, or dangling overhead.

Flooded roads are extremely dangerous. Never drive through flooded roads, even if you are seeking supplies or trying to check on someone. It can be difficult to judge how deep or swift the water is moving — just 12 inches of water can float a car. Floods can also compromise bridges and roads. Avoid flooded river areas, as they can continue to rise long after a storm passes. Don't walk in floodwaters, they can contain harmful bacteria, chemicals, sharp objects, and dangerous animals.

Clean up safely and be mindful of your health.

Don't push yourself: straining the body can lead to heart attacks, heat strokes, and other serious issues. Perform cleanups slowly, taking lots of breaks. Make sure to check on your elderly neighbors and other vulnerable people in your community. If your area is under a Heat Advisory, use extreme caution and consider cleaning up when the heat has subsided.

Practice portable generator safety.

Only use generators outside, more than 20 feet away from your home, doors, and windows. Carbon monoxide poisoning is one of the leading causes of death in areas dealing with power outages. Never use a generator inside your home or garage, even if doors and windows are open. 
8. Take Action Today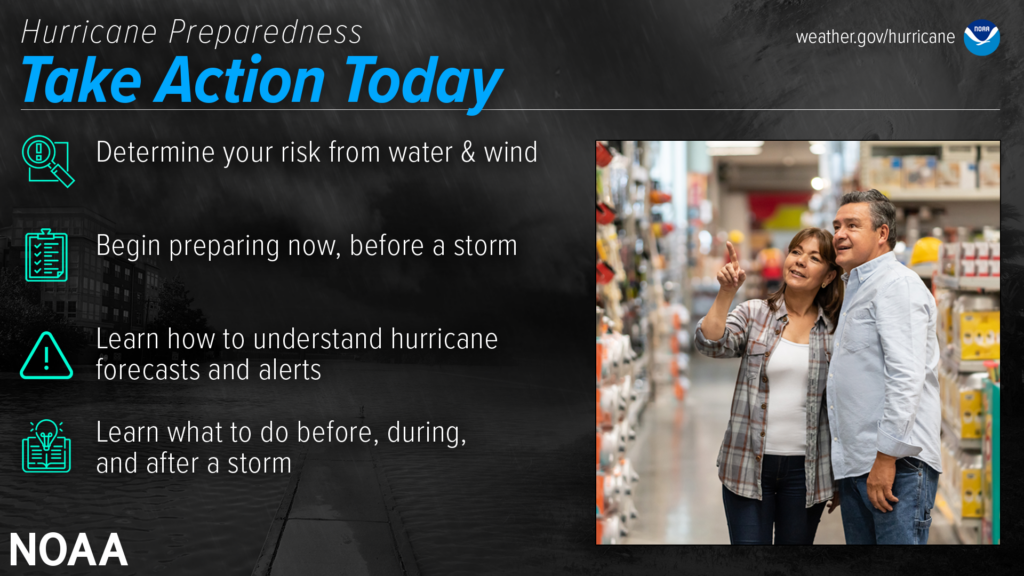 Don't wait until it's too late. Take action today to prepare. 
Claim It With Cordo®
Our Licensed Public Adjusters at Cordo Claims Group have helped thousands of residential and commercial property owners and boat owners with hurricane, water, wind and flood damage claims throughout Florida, Georgia, Louisiana, Mississippi, North Carolina, South Carolina, Texas, Virginia, and West Virginia. With over 20 years of experience, we have extensive knowledge and experience helping out clients obtain fair and balanced settlements to get their property back to pre-loss condition. Damaged? Denied? Underpaid? Contact 877-55-CORDO (877-552-6736) for an assessment!